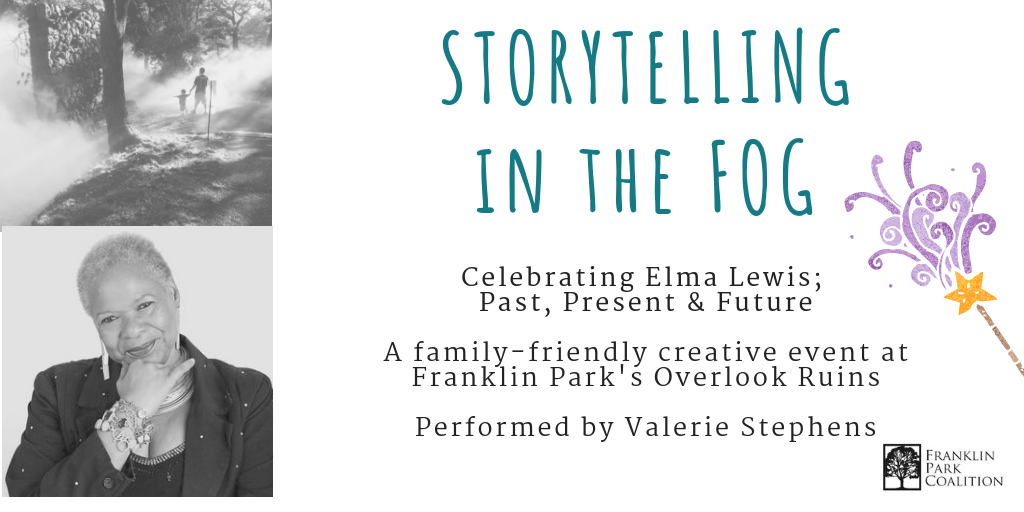 Storytelling in the Fog
Celebrating Elma Lewis; Past, Present, & Future
Hosted by Franklin Park Coalition
Sat. October 20, 1 pm – 2 pm
(this was rescheduled due to rain from the previous week, we will post an update if it changes)
The Overlook Ruins, Franklin Park (see below for a link to directions)
The story will be told twice at 1:00 and 1:30, with activities ongoing in the park- including creating art and a nature scavenger hunt.
Join renowned Boston performance artist, Valerie Stephens for a storytelling event in Franklin Park at the Fog X Ruin site. This is a sculpture made out of fog by that captures the magic and boundless creativity of people of all ages. Valerie has created a unique story that builds on the legacy of the cultural icon Elma Lewis, founder of the National Center of Afro-American Artists, who taught performance art to children in Franklin Park and invited legendary performers for community events. Valerie's story will take us on magical adventures of princesses, princes, and creative heroes inside us all.
Children are welcome to wear favorite costumes.
Please note: children like to run in the fog and can get wet, so be advised to wear rain gear or dress for your comfort.
Please check back here at- franklinparkcoalition.org or on Facebook for updates on any weather changes or cancellations.
About Fog X FLO
With Fog x FLO, Japanese artist Fujiko Nakaya responds to the landmarked waterways and landscapes designed by Frederick Law Olmsted (FLO). Nakaya's "climate responsive," shape-shifting, pure water forms invite visitors to immerse themselves in the art, experience nature anew and appreciate the vital role of the Emerald Necklace in our city's history, present, and future. Organized by the Emerald Necklace Conservancy with curator Jen Mergel, This FREE public art presentation is on view every day and several times an hour from 8am to 6pm, through October 31. Emerald Necklace has organized artistic performances with partners at all of the 5 Fog X FLO sites. Fog X Ruins is hosted in Franklin Park in the site of the ruins of the Playhouse in the Park structure.
Directions
Google map directions: https://goo.gl/maps/r9SZrqYifrE2
Nearest transit: Green Street Station, MBTA Orange Line or #16 Bus
Parking: Enter "Franklin Park Playstead, Pierpont Road, Boston, MA 02119" into your GPS device. Free parking is available at this location near the Zoo's Giraffe entrance.
From parking: Walk towards the baseball field in front of the parking lot, and turn right onto the paved path running behind the baseball field. Follow this path for about 3 minutes. Fog x Ruins will appear in the stone ruins to your right.
Follow signs for Fog X FLO and volunteers will help direct people.