Meet our Staff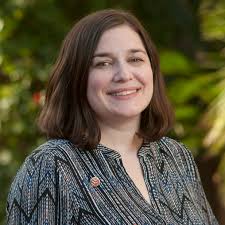 Janna Cohen-Rosenthal became the Executive Director of the Franklin Park Coalition in July 2018. Janna has been exploring Franklin Park for over ten years and is excited to support a vibrant urban park and its' active and diverse community.
Janna was most recently the Climate Programs Director at Second Nature, where she worked with a network of higher education leaders to decrease climate change impact and strengthen resilience through community partnerships. Previously, she founded the Campus Sustainability Initiative at Brandeis University, bringing clean energy, local food, and bike programs to campus. Janna has also worked on community outreach and environmental issues with Mass Energy Consumers Alliance, the Conservation Law Foundation, the City of Boston's Office of Energy and Environmental Affairs. Janna is a Senior Fellow in the Environmental Leadership Program. A graduate of Brandeis University, Janna earned her B.A. in Sociology and Environmental Studies, and an M.B.A in Non-Profit Management from it's Heller School of Social Policy. She lives in Boston with her husband and two children, who whenever possible, can all be found enjoying Boston's open spaces and parks.

Mikayla Rowe joined the Franklin Park Coalition as the Volunteer Coordinator and Development Associate in September of 2018. Before coming east to work towards her Masters in Elementary Education at Boston University, she was born and raised in Oregon, and attended the University of Oregon, receiving her Bachelors of Science in Education foundations. Following her undergraduate degree, Mikayla was a traveling consultant for a women's organization that focused on leadership development with college women. Through this experience, Mikayla developed and focused on her major career goals that center around social change and equity, in and out of the classroom. When Mikayla is not studying to become an elementary school teacher, she is an avid figure skater and has taught private and group lessons since High School, loves animals, and has an Oregon-infused sense of outdoor adventure. She is looking forward to the new adventures New England has to offer, while retaining the sight of green trees and pastures like her home state of Oregon.

We seek to hire a highly organized person to assist in our programs including; volunteer efforts, park events, individual and corporate fundraising, and community advocacy. The candidate should serve as an enthusiastic ambassador of the park and the Coalition's mission. The position requires both an ability to execute plans with strong attention to detail and to think creatively. The Program Assistant will report to the Executive Director.
This is a part-time position, and the ability to work on occasional weekends and evenings is required. The position is for 6 months (Feb-August 2019).
Learn more about our position and how to apply by clicking the icon below.