Meet our Staff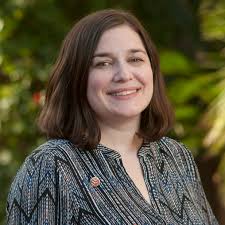 Janna Cohen-Rosenthal became the Executive Director of the Franklin Park Coalition in July 2018. Janna has been exploring Franklin Park for over ten years and is excited to support a vibrant urban park and its' active and diverse community.
Janna was most recently the Climate Programs Director at Second Nature, where she worked with a network of higher education leaders to decrease climate change impact and strengthen resilience through community partnerships. Previously, she founded the Campus Sustainability Initiative at Brandeis University, bringing clean energy, local food, and bike programs to campus. Janna has also worked on community outreach and environmental issues with Mass Energy Consumers Alliance, the Conservation Law Foundation, the City of Boston's Office of Energy and Environmental Affairs. Janna is a Senior Fellow in the Environmental Leadership Program. A graduate of Brandeis University, Janna earned her B.A. in Sociology and Environmental Studies, and an M.B.A in Non-Profit Management from it's Heller School of Social Policy. She lives in Boston with her husband and two children, who whenever possible, can all be found enjoying Boston's open spaces and parks.

Jon-Lawrence Koloba became the Program Assistant for the Franklin Park Coalition in March 2019. Jon grew up in Brockton, MA and recently graduated from NYU with a Bachelor's degree in Sustainable Urban Environments. His senior capstone project assessed the accessibility of NYC's bike share program in Bedford-Stuyvesant, Brooklyn. Now that Jon has returned to Massachusetts he hopes to be an advocate for equality, accessibility and sustainability in Boston. Jon spends his out-of-office time producing music and travelling while pursuing a Master's degree in Sustainability at Harvard.